Flower (verb): Of a plant, to produce flowers; bloom
My blogs are my personal reflections, the most pressing thoughts on my mind and hopefully tips or suggestions for readers, but Mumoirs also provides a platform to cheerlead and to support others, in the same way that many have done for me. My Q&A blog was an example of this, PPROM another, and I hope that this one may also prove to be.
As you may have gathered, I love to read. I haven't read many books on baby loss, mainly because I haven't wanted them to cloud my thoughts or affect my own 'voice' (doorknob-ish as that sounds!), but I have read Karen's.
Karen is someone who stumbled upon this blog and has supported it ever since, offering words of reflection, advice and insight – for she has lived through baby loss, 27 years ago, with her full-term daughter, Jennifer. Now that Karen has retired, she has written Jennifer's story (her own memoirs) and I have had the privilege to read it via her book, Jennifer: A life Precious to God – one of my favourite reads of 2020 (I have included a full list of books and recommendations at the very end of this blog*).
Instead of writing a book review, I thought I'd share the letter I wrote to Karen in August last year. I hope it encourages you to want to read it too and if so, you can find the book for sale here (or, via Karen directly on Instagram at @ThereGrewFlowers – I believe that doing it this way will ensure that some of the funds go towards a charity donation to Together For Short Lives).
This blog is therefore, in memory of and with love and thanks for, Jennifer Palmer. Her short life touched mine, and I hope that it can do the same for you. Gone, but not forgotten. For everywhere she had been, there grew flowers.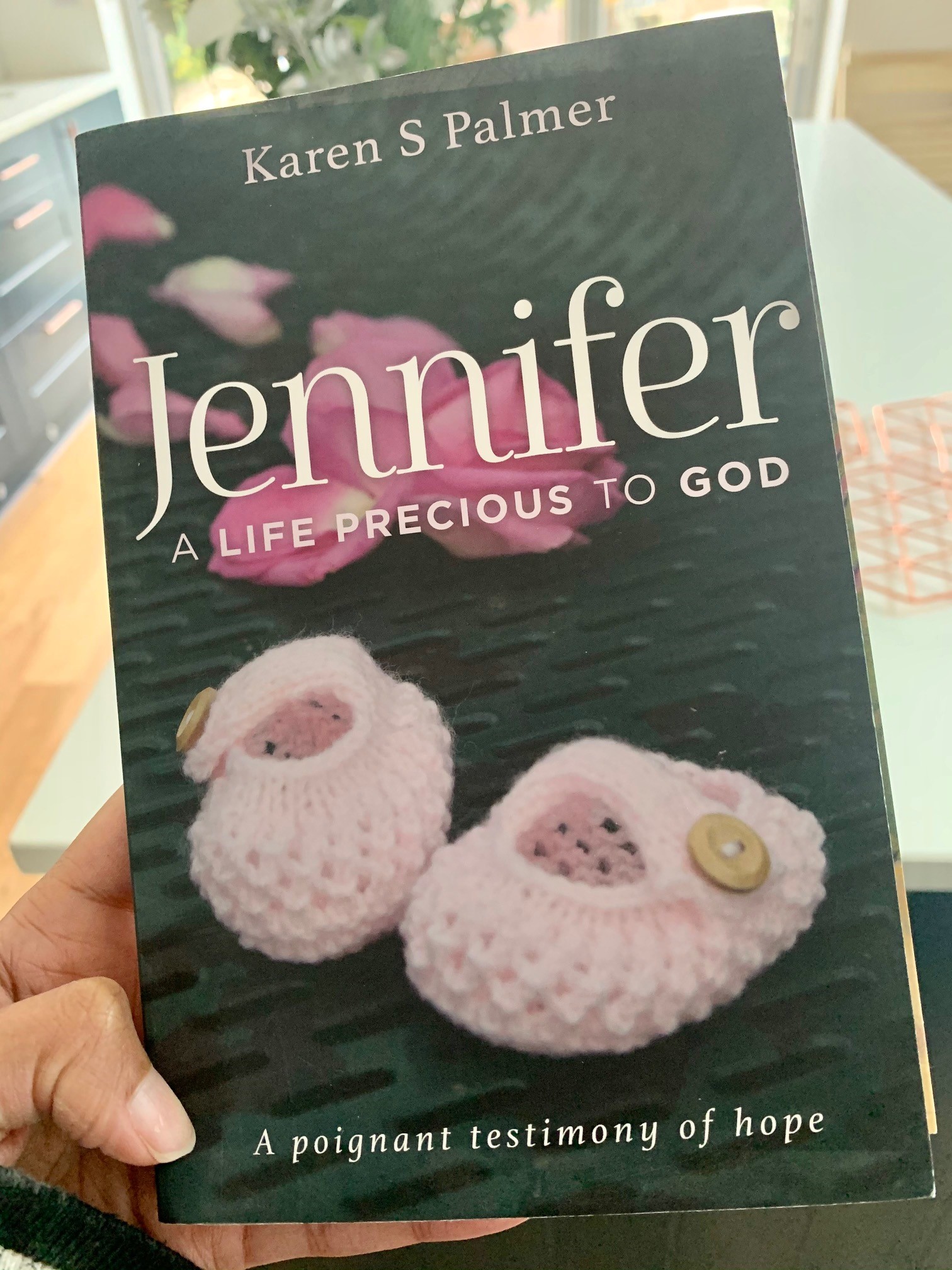 Tuesday 25th August 2020
Dear Karen,
Thank you for sending me your address, you have always been so kind with your comments and thoughts on my blogs, so I just wanted to do the same in return. As you know, I read your book in one sitting. I smiled, I nodded, I cried and now I want to write.
I really enjoyed reading Gordon's short preface, that was such a lovely touch, having you both present in the book. I must admit that my first load of tears was when you spoke about Gordon giving thanks to God for your lunch, then breaking down in tears. I know the feeling, of feeling grateful even though irony sits by its side.
I had no idea that your world came crashing down at 19+5 or that you had reduced fluid around Jennifer. The dates and situation are sadly, so similar to what happened, 17 years later with Summer. I also learned that Gordon's birthday is the same as Summer's due date. I know these are coincidences, but I don't believe in that word, I believe in Godincidences.
The godincindences in your book, are beautiful. How you heard the right hymns and readings, just as you needed them. I felt how they brought you a lot of comfort, they did for me too. I also thought it was incredible how many people were able to articulate their feelings and offer you kind words. The excerpts you include (page 56), are so heart-warming. I will hold some of them close to my own.
I cried buckets when you detailed Jennifer's birth so beautifully, also commenting on how her arrival helped soothe your own mum's broken heart. It was so tender and exquisite, so very touching. Of course, it reminded me of our own short time with Summer. Such a blessing.
I cried happy tears when reading about Elaine and Karen's visit to your home. Children really are the best, so honest and innocent. How inadvertently perfect their conversation about Jennifer was. I'm so pleased you had them catapult themselves into your home!
I also found such comfort in your sharing Jennifer's funeral service, particularly these words:
But present too is love which tends,
The hurt we never hoped to find,
The private agonies inside
The memories that haunt the mind.
I cannot tell you how much that resonates, not least because I rarely used the word 'agony' as part of my usual discourse, yet it has been ever present since Summer. I wrote a blog called agony and the morning before reading your book, I chose to revisit it and posted a quote from it on Instagram. So for me, it is another godincidence to see this word used again today in your book.
Reading your story, I felt so at peace and I particularly enjoyed this verse:
The peace of God comes close
To those caught in the storm
Forgoing lives of ease
To ease the lives forlorn,
The peace of God is here to stay
Embracing those who walk his way
I also really enjoyed Gordon's selected reading, particularly page 93:
If sympathy for the world's wounds is not enlarged by our anguish, if love for those around us is not expanded, if gratitude for what is good does not flame up, if insight is not deepened… if from the experience of death comes nothing good, then death has won.
This is very much why I launched my blog, why it is public and not private, because from the beginning I have felt that some good needs to come from this experience. If I am going through this, the least I can do is to try to help or educate others in some way. I feel your book achieves that goal.
I really admire your honesty, Karen. No one wants to put on paper that they were angry or scared of their 'abnormal' child, but it's important to tell these stories, because these are the stories we are telling ourselves. Hearing someone else vocalise the same, has been a huge weight lifted. When we were in the hospital having difficult conversations about Summer, James and I requested to speak to the hospital's chaplain. We were talking about the life of a grown woman, versus an innocent child, to me it was a no-brainier, but he turned to me and said something surprising: "you are important too". Your thought on page 110 reminded me of this moment, which I had until now, largely forgotten.
This might sound so odd, but I have been able to forgive myself, by reading your words. I have always imagined that a better person (than myself) would deal with this differently. That a good woman of faith would have greater strength and grace than I have shown. Given that you are a good woman of great faith, a doctor and a minister's wife, knowing that I have had similar thoughts and experiences to yours, enables me to forgive myself. You said that you were bitter with tears forming at a baptism, and in reading that, I felt a weight lifted. I look forward to the next baptism we attend and hope not to feel that way, but if I do then (or at any other time), I will know that it is ok. I will try, with you in mind, not to reprimand myself or to demand that I be better.
Ruth and Sally's words at the end, were a real comfort. I have wondered how people raise new children in the shadow of previous loss, but all three of your daughters give me encouragement.
I don't know where my story goes from here, I hope I'll find the courage to try again and I hope we go on to have a child one day. If we do, I already know the blog will stop, it is a baby loss blog and so I wouldn't want to do the community and bereaved parents a disservice but I already know that I will miss writing. And so your book has given me the inspiration and clarity (and one less thing to worry about) should that time come: I love that you kept a diary, written to your children. What a brilliant idea. I have never thought to do that before, just notes to myself. If I ever get pregnant again, I hope you won't mind me borrowing this idea. What a gift it would be, for that child to receive one day.
If you ask anyone who knows me, "what's one thing that Anjulie likes?", 9 times out of 10 you will hear "reading". When we lost Summer it was difficult for me to pick up a book again, my mind would wander, it still does. It was too troubled to settle in a book and so for me, that was the point I realised that I had been changed irrevocably. So I know it won't sound silly to you that I think God is placing Summer's name in my books – every single one of them – while I need to see it, while I am recovering who I am. So of course Summer's name was placed in your book too; there she was on page 84 (and again on page 85, 109 and 126!) of your 139 pages of Jennifer's story. My own Godincidence in yours. You unwittingly first used the word summer at the end of the chapter detailing Jennifer's birth. In doing so, you have given me my own unexpected grace.
Strangely enough, I hope this is where the streak ends for a while. Having finished your book, which has praised God and brought me comfort, I am ready to not see her name now. I will always continue to turn down the pages of all the books where I do read her name, and this will be another of her little legacies, but I no longer need to see her in every book, but when I do I will continue to smile and say "there you are" and count each instance as a blessing, just as you do with flowers.
The words to A Cradling Song are beautiful. Our piano is currently wrapped up in plastic, as we have building work being done, but when our home is our own again, I look forward to giving James the sheet music and hearing Jennifer's song in our home.
Finally, thank you for sharing a photo of Jennifer, helping me to know her better. She was, as you know, absolutely beautiful Karen. A real gift to us all. Congratulations and thank you for Jennifer.
With love and thanks, Anjulie xx
P.S. Butter bean is an adorable nickname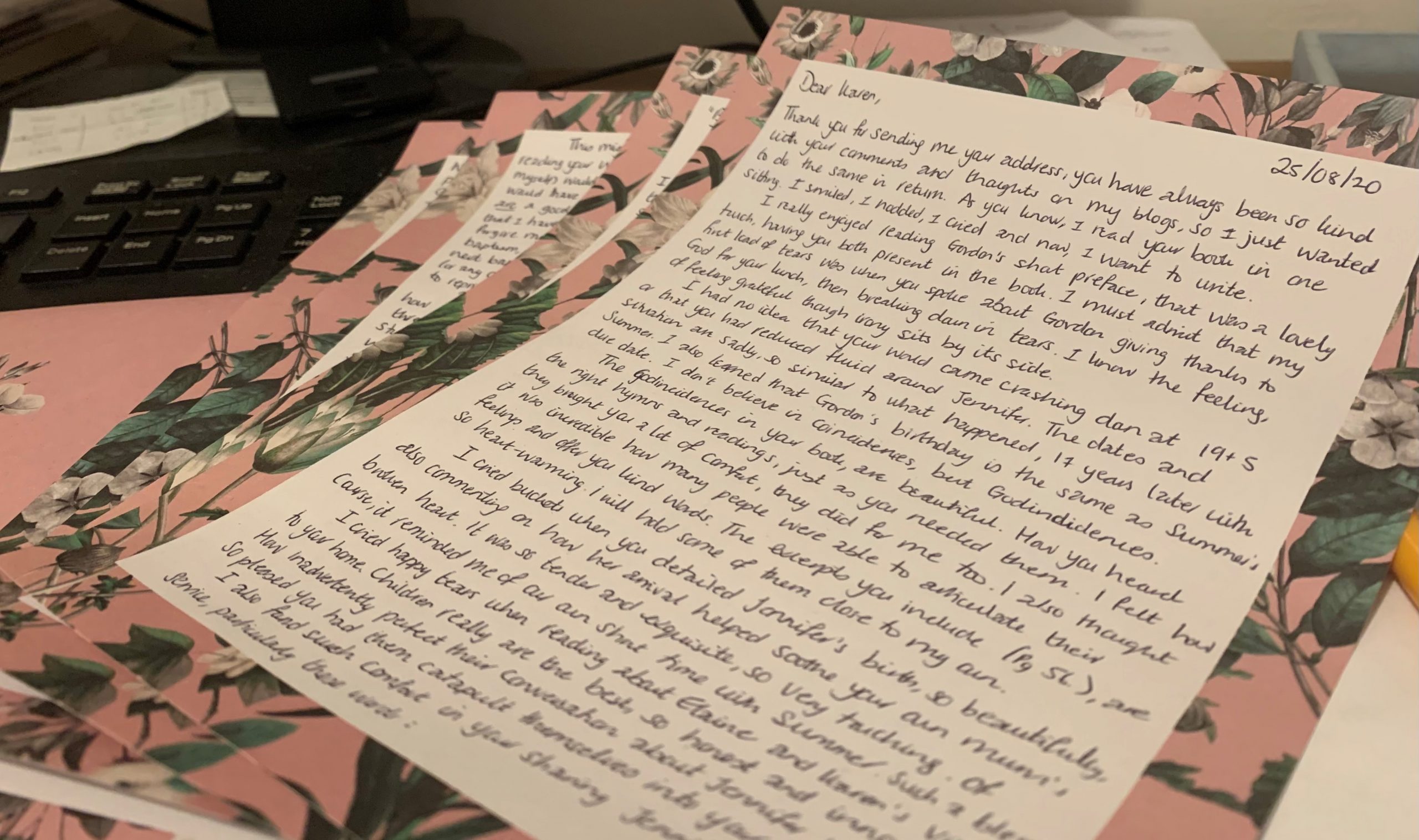 ---
* BOOKS READ 2020
Personal recommendations starred below. Please feel free to send me any of yours.
Fruit of the drunken tree ****
Pachinko ****
Why I'm no longer talking to white people about race ****
Notes from a small island
Rising strong
Talking to strangers ****
Cutting for stone ***
Killing Pablo
The secret commonwealth ***
On the road
A woman is no man ***
The return
The summer I turned pretty ***
It's not summer without you
We'll always have summer
Are you there god? It's me Margaret
Prisoners of geography
Sharpe's Eagle ****
Saying goodbye ****
Gilead
Wonder *****
The baby loss guide
Cold comfort farm
For one more day ****
Beneath a scarlet sky ****
My family and other animals
Queenie ***
The first phone call from heaven****
Once upon a river ***
The other half of Augusta Hope
Capital ***
The beekeeper of Aleppo ***
Where the crawdads sing ****
Girl, woman, other ***
My sister the serial killer ***
The silent patient
Jennifer, a life precious to God****
The flatshare ***
Station eleven
The time keeper ***
Anxious people ***
Cilka's journey ***
Our life in a day
The summer book
American dirt ****
The institute
1963, a slice of bread and jam***
The cactus ***
The Dutch house ****
Small pleasures ***
Ask again, yes
---
If you would like to receive email notifications of new blogs from this website, please sign-up here: