Save the date:Announcement of an upcoming event, asking the recipient to hold or reserve the mentioned date (Saturday 13th June from 11-2pm) on their calendar
Today – right now – should have been my baby shower.
With the timing of lockdown coinciding with the timing of Summer passing, I really feel that the planet took a wrong turn somewhere. In March, we all slipped onto a different plane and there's still a parallel universe in existence where the world is 'normal' and I'm still pregnant, sitting down to afternoon tea with lots of my favourite people. I'm just going to pause to think about that.
In fact, let me tell you about how I just pictured my baby shower, as I know I'll never have one now. If there's a "next" time, I don't think I'll even tell people I'm pregnant, so there's no way I'd be foolish enough (again) to dream of an event so far ahead.
My friends live so far away, that's why the date was saved so far in advance. I had three friends set to organise it: a school friend, a uni friend, and a post-uni friend, all of whom had volunteered to throw me a baby shower, seeing as I don't have any sisters. I was looking forward to them getting to know each other.
We had booked a lovely little venue in London, close to where James and I used to live. The plan was for the boys and children to go to the playground on Hampstead Heath, while we girlies sat down at Tea Party in Kentish Town (I mention the venue's name, as when we had to cancel the event, they kindly refunded the £150 deposit – even though it was against their policy – and donated it to Unicef in memory of Summer).
It's sunny out today, so that plan would have played out well. I would've liked to have worn a pretty new dress (as I'm sure I wouldn't be feeling very pretty at this stage!), one that proudly showed off my bump. I'm not sure what colour I would have gone with. Pink is my favourite colour, but I don't think I would have wanted to tempt fate, or for friends to wonder if I'd secretly found out the sex! Regardless of the colour, I'm almost certain it would have been from Seraphine – I've spent years coveting the clothes in that maternity shop, wanting to spend all my pennies there. One day, maybe.
In case guests asked about gifts, I'd suggested either making donations to something child-related on Unicef, or to buy their favourite childhood book, so that we could add to our baby's library. The sad bruth is, James and I started our baby's library years ago, in 2017, when we first decided to start trying for a baby. From then on, whenever we went on holiday, we bought a book for our future babies. Over time, we've watched our library grow.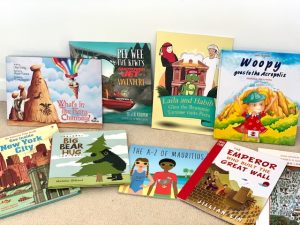 The part I was most excited about was having all of my friends together in one room. Life gets so busy, it's only the big events that mobilise people to make you a priority, so I haven't had this group of friends gathered in years – there would have been tears. At least that's something consistent in today's reality and the parallel universe!
I'm sure we've all had to have days in lockdown that are different to what we expected, so though it's easy to write a bittersweet post, I'd like to finish on a positive note. Since Summer passed away, I have been showered in love. So many messages of love and support and some really nice gifts too!
I love to give gifts and am always on the lookout for new ideas, so here's a few examples of the gifts I've been showered with over the last three months, in case you wanted to send something special to someone too. I'll be surrounding myself with these today.
With thanks to:
M for the 'friend in a box'
J, R and C for the flowers and plants
R for the amazing cookies from Little Bee Bakes 
C for the handmade bookmark and summer flower seeds
R and K for the two 'boxes of comfort'
R for the comfy jumper and new game
C for the Stephie Ann sleep and relaxation box
V for the gorgeous handmade card
F for the birthstone earrings
K for the huge box of Hotel Chocolat goodies
F for the box of treats, pamper items and pocket hug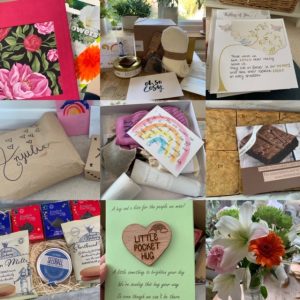 P.S. Just after I clicked "publish" on this blog, the doorbell rang. The postman had just dropped off another lovely parcel, this time a Hazel & Blue candle making kit from A & T. Thank you guys, your timing is – quite simply – perfect.