Memory (noun): Something remembered from the past
I think 'they' say that smell is the most powerful form of memory, but for me, it might be sound. I still have such a strange relationship with music: I get lonely at home, so I put the radio on, but this serves only to amplify the memories, which then makes me cry, so I have to turn it off again.
So when I saw this 30 day 'grief and music' challenge on Instagram, something about it appealed to me. Perhaps I'll find it cathartic? The creator @whenyourworldstopsturning has kindly agreed for me to post my stories via this blog, instead. I'll try my best to keep the Q&A's short and sweet (famous last words).
I just know that you're going to wonder "how can she remember all this stuff?", but I ponder another: "how could I forget?". I'm nearly there, I'm nearly past the "this time last year I was…." stage. I know I should stop glimpsing back, I plan to stop doing it very soon, but for now, the memories are all we have.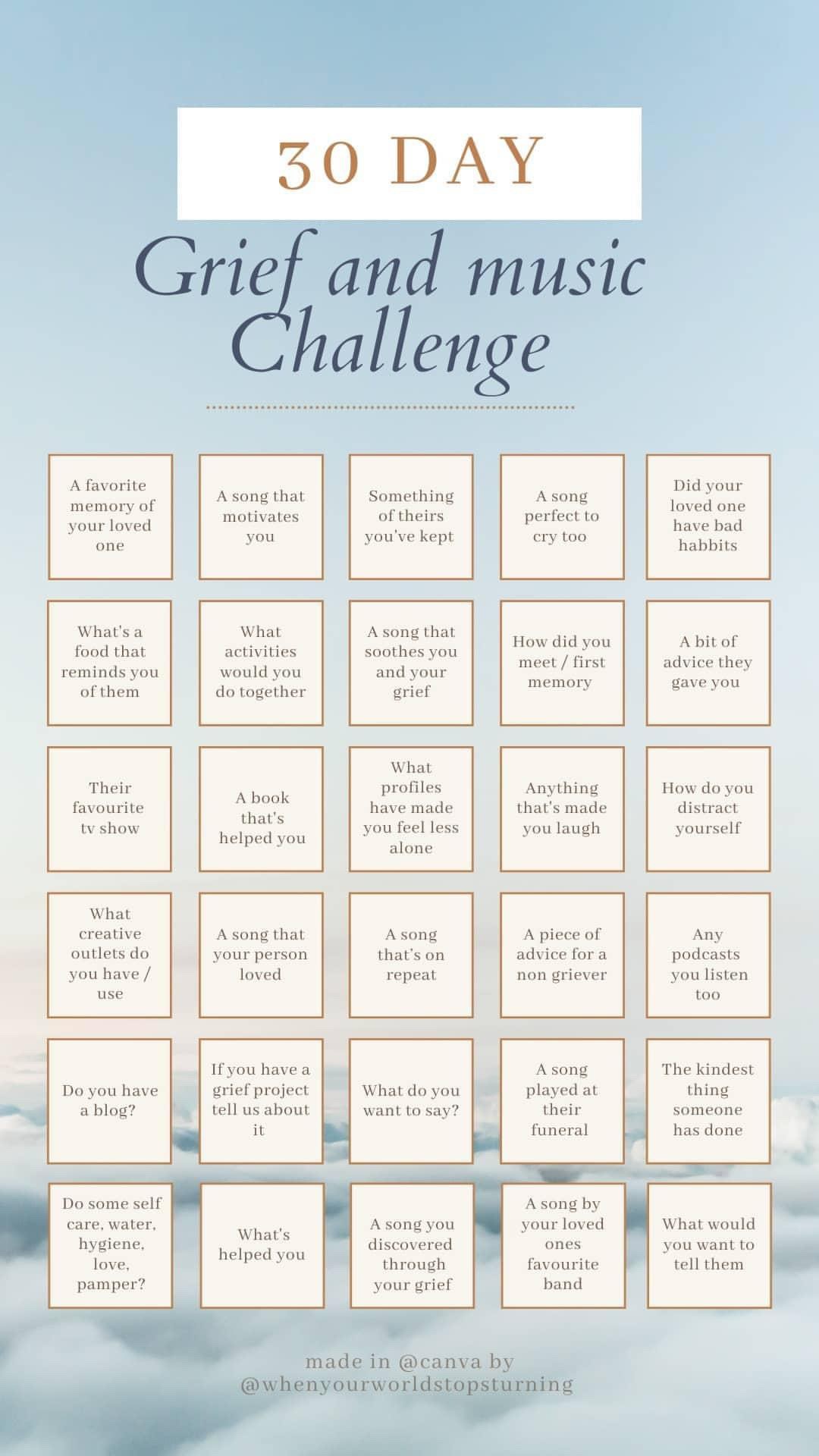 Day 1 – A favourite memory of your loved one: I wouldn't say it's a favourite memory, but it's a new one. My phone calendar showed me that this time last year I had put two reminders on my phone "take hot water bottle in to work" and "check out the 9th floor medical rooms". Summer wasn't born for another 5 weeks, but the pain and worry had kicked in.
One night the pain/cramps were particularly bad and the next morning I woke up and said to my bump "you were very naughty last night! I am not happy, but if you're good today, I'll tell your daddy you've behaved well" – it was Summer's first telling-off and she actually listened! I text James later that day to say that the baby had temporarily decided to stop hurting mummy!
Day 2 – A song that motivates you: Ooh tough one, I quite like Rudimental's "Feel the Love" as a running song. It's one that gets me pumped. And it's one song that has zero association with Summer.
Day 3 – Something of theirs you've kept: We bought Summer a children's book from a museum in Athens – our future children have a huge pile of books, just waiting to be read.
Day 4 – A song perfect to cry to: Oh, this list is endless. I've mentioned so many on this blog, but I also find it impossible to listen to Selena Gomez's "Lose You to Find Me" without crying. I first heard it when pregnant with Summer, sang it all of the time, and now I can't help but cry. The first few seconds is all it takes. I now particularly dislike the line "I needed to lose you to find me".
Day 5 – Did your loved one have bad habits? Just super 'active' at night. So many painful, restless nights.
Day 6 – What's a food that reminds you of them? It's all the stuff I wouldn't be allowed to eat if pregnant: so I still can't eat pate, soft cheese or drink alcohol without thinking of Summer.
Day 7 – What activities would you do together? Err everything! She was my permanent company. My favourites were singing when walking down the street, dancing in the kitchen and reading. Summer taught me how to survive this lockdown: I was on bed rest for two weeks before she died, so she made her previously crazily-active mum practise doing nothing. We read a lot of Philip Pullman.
Day 8 – A song that soothes you and your grief: I haven't found a soothing song for my grief. I've come to realise, that I used to practise gratitude through music. I used to listen to music and think "I feel happy" – I particularly did this when pregnant. But now, when I acknowledge that thought in my head, it hurts to remember that it is not the unencumbered happy that it once was. Instead of moving into mindful gratitude, I stop short, as I remember that she's not here. I feel like I need to find new things to make me happy. That's difficult though, when my tiny happy things were a lifetime's accumulation. It's hard to rewire this stuff.
Day 9 – How did you first meet / first memory? All three of my pregnancies were a surprise, positive tests, when I'd given up hope. Summer was a quick test in the morning before work. The day before I'd text a friend to say "already looking forward to a BIG bottle of wine" and so I was testing, just to be on the safe side. I didn't have a drink that night (obviously!) I came home and we ordered a Chinese takeaway while we babysat our neighbour's daughter.
Day 10 – A bit of advice they gave you: Summer didn't give me advice, but she has taught me a lot, which I blogged about here. Now, I just try to be someone she would be proud of.
Day 11 – Their favourite TV show: I never used to watch a lot of TV, but a firm Monday night, family favourite (ahem, guilty pleasure) has always been Made in Chelsea.
Day 12 – A book that's helped you: Every single book has helped me, as EVERY book I've read since Summer died has had her name in it (a streak of 50 books so far), I think I've stumbled upon the most popular noun used in novels! If I have to mention one book, it is of course, Jennifer.
Day 13 – What profiles have made you feel less alone: There are so many baby loss profiles on Instagram which have helped me, but there are some in particular that I found early on which just always spoke to my soul, seeming to just get "it". For me, they were @Notahugger_, @Beatrices_Journey, @RememberingElsie and @Muddling_through_miscarriage.
Day 14 – Anything that's made you laugh: Remembering Summer's grumpy face when she was born. Poor little mite must have been so cold, she looked so fed-up.
Day 15 – How do you distract yourself? This has been tough. Work and friends and chatting to work friends. Reading, card-writing and gift-wrapping.
Day 16 – What creative outlets do you use: This Mumoirs blog, of course! Home decoration has also been a considerable project. Hard work, but finally paying dividends.
Day 17 – A song that your person loved: I'm going to say that Summer loved Taylor Swift, because Summer had to listen to Taylor's Lover album a LOT.  
Day 18 – A song that's on repeat: I'm not repeating songs at the moment as I'm trying to turn a corner, playing music will not help with that.
Day 19 – A piece of advice for a non-griever: Please don't judge. I know we look crazy, but we're not.
Day 20 – Any podcasts you listen to: I think it's very grown up when people tell me they've listened to podcasts. I would love to be a podcast person, I'm just not. Perhaps because listening isn't my forte. Too many thoughts.
Day 21 – Do you have a blog? I do indeed. Thank you for asking / visiting / reading!
Day 22 – If you have a grief project tell us about it: My whole 'grief project' has been about Summer's legacy and helping people with theirs. So I consider things like raising money for Unicef, people donating blood in her memory, sponsoring a little girl in Nepal, the Teeny Tears donations, raising money for Rays of Sunshine, blogging for the Miscarriage Association, donating books to the hospital bereavment unit library and an Aching Arms bear, all a part of it. Summer's birthday is coming up and our plans to mark the day will also form part of her long-lasting legacy. More details to follow.
Day 23 – What do you want to say? Say something, anything. Try.
Day 24 – A song played at their funeral: Aron Wright's Look After You and Kelly Clarkson's version of Quiet Uptown (from the musical, Hamilton).
Day 25 – The kindest thing someone has done: So many kind people, which you can read about here and here! Plus there was the amazing advent calendar. But I really do have to mention the kindness of complete strangers, who have become such great friends. Three in particular who now have my personal phone number. One new friend drew us a picture for our home, which we are itching to put up in our new 'Summer room'.
Day 26 – Do some self-care, water, hygiene, love, pamper? Sorry, but the phrase 'self-care' always makes me laugh. That aside, ok. I think having a soak in the bath will tick all those boxes – challenge accepted!
Day 27 – What's helped you? People (friends), talking (counselling) and writing (blogging).
Day 28 – A song you discovered through your grief: The Sun is Rising. It's cheesy, but I really feel the lyrics.
Day 29 – A song by your loved one's favourite band: The last weekend when we were saying goodbye to Summer, we played my bump lots of songs and made some little videos. One of my favourites is where James and I are signing along to New Year's Day. The lyrics of "hold on to the memories, they will hold on to you, I will hold on to you" seem pretty perfect now.
Day 30 – What would you want to tell them? The one thing I've shied away from, is writing a letter to Summer. I just can't bring myself to do it. And when Summer was born, I'm not sure I said "I love you" in the hour that she was with us. But that's ok, I know she always knew that. Any daughter of mine would likely reply with an eye roll and a "well, obviously, mum" anyway. So perhaps I'll just say that I can't wait to see her again.
---
If you would like to receive email notifications of new blogs from this website, please sign-up here: